SRI RAM KRISHNA TALUKDAR
Dedication and devotion in the art form since his childhood has turned a mere dancer into one of the most high grade 'artiste' of today's time. Guru Ramkrishna Talukdar is the first man of Assam to have acquired an 'A' grade accreditation in Sattriya from the Doordarshan Delhi. He is also the first person to obtain a first class first degree in Sattriya and has done M.Mus in Kathak from Gandharva Mahavidyalay, Indore. His book "Nritya Kala Darpan" has been acknowledged by the SEBA board as their HSLC syllabi textbook. He is also an empanelled artist of ICCR, solo and group category in Sattriya dance. He is the recipient of the prestigious Sangeet Natak Akademi Award 2017 by the Hon'ble President of India for his lifelong contributions towards the field of Sattriya Dance. He has not only performed across India but also abroad in Scotland, London and Kuwait (Saudi Arabia). Guru Ramkrishna Talukdar with his innovative composition in both music and dance has always been successful in attracting audience all over the country.
Lecture Demonstrations / Workshops / Seminars
Presented a lecture demonstration on the history, evolution and the classical elements of Sattriya dance at 'Dance Ihayami' in Edinburgh, Scotland in the year 2012
Lecture cum Demonstration on basic tenets and history of Sattriya Dance were presented at Guwahati University in 2013
Lecture cum Demonstartion at the Bajali College, Barpeta in 2013.
Lecture cum Demonstartion at Nagarbera College Goalpara in 2013
A four day workshop was conducted on the basics of Sattriya was taught to the students and thereafter the students from various countries  presented a sattriya performance in Kalakshetra, Chennai in the year 2013.
Presented a lecture demonstration on Sattriya Dance at Shilpagram Guwahati organised by CCRT, New Delhi in the year 2014.
The book 'Nritya Kala Darpan' is written by Ramkrishna Talukdar in the year 2000-2005 and has been last reprinted on 2016. The book has been selected by the Board of Secondary Education, Assam Guwahati as its only course book for the 10th standard.
A book on Music and dance named as "Shilpatirtha" was co-authoured by Ramkrishna Talukdar in 1997.
Directed and performed in a dramatic presentation of Ankiya Naat Ram Bijay written by Mahapurush Srimanta Sankardev.
Directed and performed 'Rukmini Haran'- Ankiya Naat.
Directed and performed Parijat Haran- Ankiya Naat .
Directed Chor-Dhora Pimpora Gusuwa written by Mahapurush Sri Sri Madhavdev.
Conceptualised and directed 'Shyama'- a Dance Drama written by Rabindranath Tagore in Sattriya Style.
Directed and produced the 'Draupadi Bastra Haran'- a dance drama based on the mythical epic Mahabharatha. This dance drama was scripted by Sattradhikar Hiru Mahanta.
Directed and performed in 'Abhisapta Ashirwaad'-a dance drama in sattriya style based on the story of Sindhumoni sponsored by Sattriya Kendra under Sangeet Natak Akademi.
Produced and performed 'Jatayu Moksham'- a story from the epic Ramayana in sattriya style.
Choreographies and Compositions
'Krishna Katha Varnanam' a choreography piece based on Kaliya Daman and Ankiya Naat written by Mahapurush Srimanta Sankardev. This dance piece starts with a Nandi slok  sung in the praise of Lord Krishna and is followed by the Bhatima which depicts the Kaliya Daman, the lifting of the Goverdhan Parvat and killing of the lady demon Putana. (Year of composition-1987).
'Stavak Ek Bhava Anek', 1992.
'Vishnu Vandana' a choreography piece to pray to Lord Vishnu followed by Karatala a poem written by Mahapurush Srimanta Sankardev without using any vowels (Year of composition- 1999.)
'Krishna Satyabhama' from Parijat Haran Ankiya Naat written by Mahapurush Srimanta Sankardev is a choreography based on two characters mainly Satyabhama and Krishna. This choreography shows how Satyabhama was angry with Lord Krishna for giving the Parijat puspa (flower) to Rukmini instead of her and how finally Krishna manages to convince her. (year of composition- 2001)
'Ram Katha'– a Nandi slok of Ankiya naat is a choreography piece based on Lord Rama. This dance composition starts with a Ram Vandana where Ram is praised followed by a Bhatima which shows various events from the epic Ramayana like Haradhenu bhanga (breaking the shivdhenu),Sita Swayambar (claiming Sita's hand in marriage), Setu bandhan (the road made by floating stones in the sea to reach Lanka), (year of composition- 2002.)
Composed 'Dasavatar' – the ten avatars of Lord Krishna written by Mahapurush Srimanta Sankardev in the Kirtan Ghosa. (Year of composition- 2003.)
Composed and choreographed 'Uddhaba Bandhu' a Bargeet of Srimanta Sankardeva. (year of composition- 2004)
Choreographed 'Dekho Mai Avoto Nandaku Lal' a Bargeet of Mahapurush Madhavdev (year of composition-2005)
Composed 'Abhimanyu Badh' a tale from the epic Mahabharatha where Abhimanyu is killed ruthlessly by the Saptarathis. This is only a musical composition. (year of composition- 2006).
'Abhisarika Nayika' a musical composition in the sattriya style (year of composition- 2007).
Choreographed and performed 'Madhu Danava' a totoy in the Sanskrit language(year of composition- 2008).
Choreographed 'Gunomala' a very small but important creation of Mahapurush Srimanta Sankardev (year of composition-2012).
Choreographed 'Raghu Natha Saranam' based on the Borgeet 'suno suno re suro' written by Srimanta Sankardev based on Lord Rama (year of composition- 2014).
Choreographed 'Krishnarjun' a story from the epic Mahabharatha composed in a dramatic manner (year of composition-2016).
Composed 'Krishna Stuti' based on Namghosa by Mahapurush Madhavdev. (year of composition-2017)
Composed and choreographed 'Raasleela' taken from both raasleela adhyay of Kirtan ghosa and Ankiya Naat Keli Gopal. (year of composition- 2017).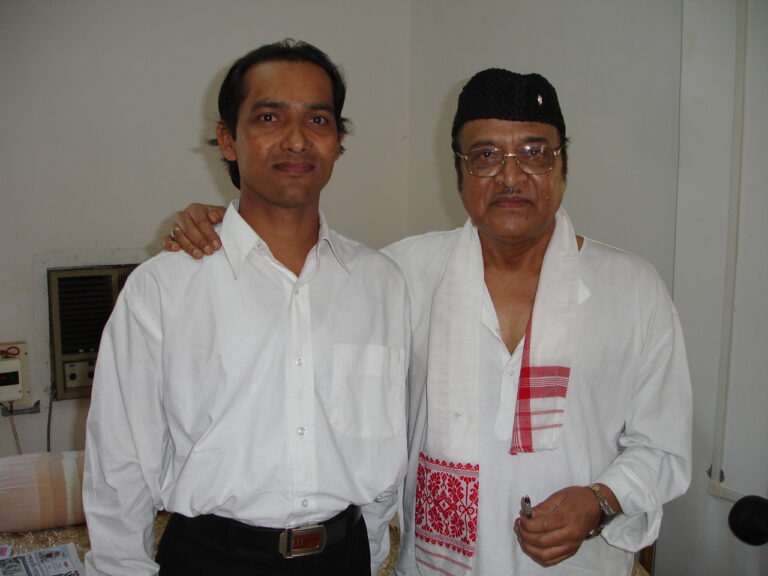 Responsibilties
Member of the Srimanta Sankaradeva Studies, Assamese department in Guwahati University in the year 2016-2018.
Member of Regional Advisory Committee Indian Council for Cultural Relations for its Regional office in Guwahati in the year 2014 and 2015.
Member of the Expert Committee for Sattriya Dance under the scheme of scholarships for young artists, Ministry of Culture, Govt. Of India 2011-12.
Examiner (external and internal) of Sattriya and Kathak Dance for :
Guwahati University, Assam. (Sattriya dance practical)
Board of Secondary Education Assam (SEBA). (dance practical)
Akhil Bhartiya Gandharva Mahavidyalaya Mandal, Mumbai. (Kathak dance practical)
Sangeet Sattra Pariksha Parishad, Assam. (Sattriya dance practical).
Indira Kala Sangeet University Kheragarh. (theory evaluation of Kathak dance)
Felicitated by Asom Sahitya Sabha in Barpeta Road 2014
Felicitated by Asom Sattra Mahasabha , New Delhi Chapter, 2014
Awarded "Axom Gaurav" by Sadequin Society of Northeast, Hajo, Assam, 2014
"Sangeet Jyoti Award" by Northeast Foundation for Cultural and Socio-Economic Development, Guwahati, 2014
"Nritya Ratna" award by Srimanta Sankaradeva Sangeet Kala Akademi, Guwahati, 2013.
"Kala Gaurav" award by Northeast Dance and Drama Festival and Nrityanjali Awards, Dergaon, Assam, 2013.
"Nrityanjali Award" by Nrityanjali Kala Kendra, Dergaon, Assam, 2006
"Received Gold Medal for being a member artiste of the Assam Tableau group of Sattriya dance presented at Republic Day Celebration of India, New Delhi, 1986.
Resource person in the UGC sponsored Lecture cum demonstration on the topic 'the folk tradition of performing arts in the North East India' in Bajali College in District Barpeta in 2013.
Resource person in the Lecture cum Demonstration on the topic Sattriya dance and theory and an introduction to the Indian classical dances in Guwahati University in 2013.
Lecture cum Demonstration at Nagarbera college in Goalpara district in 2013.
Lecture cum Demonstration in Sattriya dance on the topic tattwa (Refresher course in Assamese) at Guwahati University in 2017.
Shantiniketan Kolkata organised by DCA,govt.of Assam in December, 1985
Portrayed and performed Sattriya dance in the Assam tableau in the Republic day parade, in New Delhi organized by directorate of cultural affairs, Assam,1986
In the honour of The President of India in 1988 at Rabindra Bhawan organised by DCA, govt. of Assam.
Cultural Exchange Programme, Maharashtra sponsored by director of cultural affairs, Assam in 1992.
Swarnotsav Ahmedabad, Gujarat 2001 organized by Sangeet Natak Akademi, New Delhi
Vasant Utsav, march 2001 in Kolkata sponsored by Srimanta Sankardev Kalakshetra, Assam
Island festival in Andaman and Nicobar Islands sponsored by SNA, dec' 01.
IITF at Pragati Maidan, New Delhi in sponsored by Cultural deptt., Assam in Nov 2002 and also in 2005.
Bharat Utsav, Rabindra bhawan organized by NEZCC Kolkata 2003.
Cultural exchange programme, Jammu & Kashmir sponsored by SNA, New Delhi, 2004.
International Sivaratri fair Mandi Himachal Pradesh sponsored by SNA, New Delhi in Feb. 2004.
Barabati dance festival, Cuttack Orissa sponsored by SNA, New Delhi, 2005.
B.R. Ambedkar Literary Seminar Talkotara Stadium, sponsored by Bharatiya Dalit Sahitya Akademi in Dec 2005.
Nritya Sambhar 2006 in Rabindra Bhawan sponsored by Nartan Kala Niketan, Assam, 2006.
Nritya Sangam organized by Sangeet Natak Akademi in Nagpur, 2006.
National Games in 2007 in Assam.
Octave in 2008 sponsored by Sangeet Natak Akademi in Goa, Mumbai, Aurangabad and Pune.
Natyanjali festival in Chidambaram, Tanjore, Kumbakonam in 2008, sponsored by SNA.
In the presence of the then President of India on the occasion of Fakhruddin Ali Ahmed memorial award ceremony, 2008.
On the occasion of Natyasantati in NCPA, Mumbai in 2009.
Elephant festival in Kaziranga National Park in 2009.
India Habitat Centre, Stein Auditorium in 2009.
Purba Dhara Classical Dance Festival at Rabindra Sadan organized by SNA in 2009.
Srijan Utsav at Siliguri in 2010
Guru Purnima festival along with students from Belarus and Japan in 2010
At Dilli Haat on the occasion of Commonwealth Games organised by DCA, Govt of Assam in 2010
Pragjyoti Dance festival at Rabindra Bhawan Guwahati in 2011
Sattriya recital sponsored by ICCR and NEZCC at Shilpagram in 2011
International Summer School Conferences at IIT North Guwahati in 2011
Silver Jubilee of Nartan Kala NIketan organized in Delhi at Srimanta Shankaradeva Hall in 2011
Jnanjyoti award function at Sarusajai Stadium, Guwahati in 2011
Sankardev Namghar in Puri, 2011
Sankardev Bhawan, New Delhi in 2011
Silpagram, Guwahati in 2011
Edinburgh University in Scotland in 2012
Srimanta Sankardeva International cultural centre in London on 20th March, 2012.
International Program in IIT Guwahati in 2012
ITA Center, Machkhowa in 2012
OIL, Duliajan, 2012
Bhatkhande Jayanti Music Conference at Lucknow in 2012 sponsored by SNA
Nirmahal Tourism Festival, Agartala in 2012
Leichal Festival of the North-East organized by Kalakshetra foundation, Thiruvanmiyur, Chennai in March 2013.
International Tourism Mart Festival, Guwahati in 2013
Asom Sahitya Sabha, Borpeta conference in 2013
Barechahariya Bhowna at Jamugurihat, Assam in 2013
Indian classical dance recital organized by Srijanasom Trust in association with Assam association, Sattriya Akademi, 2013 in New Delhi
Mahabahu Festival organized by Govt. of Assam in 2014
Golf meet at Kaziranga in 2014
Yuva Pratibha Award function organized by Door Darshan, Guwahati in 2014.
Kuwait (Saudi Arabia) on April 2015 organised by Assam Association, Kuwait.
Delhi Sangeet Natak Akademi Bhawan on 8 November 2015 sponsored by SNA.
Nishagandhi Festival, Thiruvananthapuram, 2016.
Nritya Mahotsav of SNDT Women University Mumbai on 19th march 2016.
Performed in Meghdoot Bhawan New Delhi organised by SNA in 2016.
Performed in Simhatsa Malwa Utsav Indore Madhya Pradesh in 2016.
Performed Sattriya dance in South Asian Games in Guwahati 2016.
Performed Sattriya dance in Purba Dhara festival Kolkata in 2017.
Performed Sattriya Dance in Namami Brahmaputra Guwahati in 2017.
Performed Sattriya dance in 23rdS.T council meeting in the presence of CM Sarbananda Sonowal in Hotel Radisson blue 2017.
Performed Sattriya dance in Rashtriya Ramayan Mela at Chitrakut Uttar Pradesh 2018.
Performed Sattriya dance in Digha Kolkata in 2018
RUMI TALUKDAR
Rumi Talukdar, daughter of Late Padma Nath Barman and Mrs. Bimala Barman has started dancing from a very tender age. She was only 12 years old when she did her first Sattriya solo performance. A natural artiste Rumi, was initially inspired by her father, who was associated with dance and drama. Honoured with an 'A' grade accreditation by Doordarshan Kendra New Delhi for Sattriya Dance, she had also acted in various telefilms, tv serials, etc. She is an empanelled artist of ICCR (solo) in Sattriya Dance. Learning Sattriya dance from Guru Ramkrishna Talukdar under Guru Shisya Parampara, Rumi is an accomplished Sattriya dancer. She has completed her Nritya Visharad in Kathak under BSV, Lucknow in the year 1994 and is also a member of Sattriya Sangeet Sikshak Samaj, Assam. She has performed Sattriya dance not only in India but also in Scotland and London.
At Shilpagram auditorium, sponsored by ICCR and NEZCC, April 2011.
At sualkuchi on the occasion of Silver Jubilee year of of Nartan Kala Niketan and neurotherapy treatment camp on 27th January, 2011
Pragjyoti Dance Festival organised at Ravindra Bhawan in 20th January,2011
At IIT, North Guwahati, on 4th January, 2011
Nava-barsha Mahotsav sponsored at Kalakshetra on 1st January, 2011
'Purba-dhara', a classical Dance Festival at Calcutta, sponsored by SNA in the year 2011, 2010 and also in 2009
"A creative Journey", a serial sponsored by Guwahati Doordarshan, P.P.C, NE
Nritya Parva at ITA center, Guwahati; sponsored by Sangeet Natak Akademi, 16th November, 2010.
Srijan Utsav at Bagha Jatin Park, Siliguri on 1st February, 2010.
Assam Valley School, Tezpur, on 13th February, 2010.
World Dance Day sponsored by DCA, Govt. Of Assam at Rabindra Bhawan, on 29th February 2010.
Centenary Festival at Srimanta Sankardev Temple on 14th February, 2010
On the occasion of Guru Purnima organized by Nartan Kala Niketan, at Rabindra Bhawan, 26th July, 2010
Performed for Doordarshan Kendra, PPC, Guwahati(solo and group), in the year 2009 and 2010
Guru Purnima on 18th July, sponsored by Nartan Kala Niketan at Sankardev Kalakshetra in the year 2009
Solo Performance on 4th June, 2009, at Srimanta Sankardev Kalakshetra
Indian Habitat Centre at Delhi on 7th July, in the year 2009
Elephant Festival at Kaziranga, Assam in the year 2009
Voice of Assam at Nehru Stadium sponsored by NE T.V. in the year 2008
Brahan Natyanjali Festival in Chidambaram on 9th March, 2008
Brahan Natyanjali Festival in Tanjore sponsored by by SNA on 7th March'08
Brahan Natyanjali festival in Kumbakonam on 8th March, 2008
Inaugural function for Car Rally, Guwahati in 2007
Inaugural ceremony for National Games 2007, Assam.
National Dance Festival at Agartala sponsored by NEZCC, 2007
Performed in Barechahariya Bhaona at Jamugurihat, Assam in 2007
Nritya Parva, 2006 at Guwahati sponsored by SNA
Barabati Nrutyosav, Katak, Orissa in November 2005, sponsored by cultural dept., Assam
Talkotara Stadium at the conference of Dalit Sahitya Academy in December, 2005
Nritya Parva, 2004 at ITA Centre, Machkhowa, Guwahati organised by SNA
International Shivaratri Fair at Mandi, H.P. sponsored by SNA in 2004
North East Zonal Cultural meet, Tawang, Arunachal in 1999
Responsibilities, positions, Accolades:
'B' Grade accreditation from Doordarshan, Guwahati
Telecasted in Doordarshan PPC, Guwahati both in solo and duet category
Assigned as selector for CCRT scholarship in 2008 at Guwahati
Best actress and Best one act play performer of the state
Acted in TV Serial, telecasted by Doordarshan, Guwahati
Member of All Assam Sattriya Sangeet Teachers Samaj, Guwahati